If you have a phone, chances are, you are on it a good portion of your day; I would venture to say that most of that time is occupied with scrolling through social media platforms rich with beautiful photo content. Am I right?
Whether you are a photographer, or a social media Influencer wannabe, creating beautiful photo content is something you take great pleasure in creating. You'll be happy to know that San Francisco is one of the best places to get your photo fix.
There are plenty of photo worthy locations here for you to explore and take the perfect photo. And to make things easier on you, so that you can focus on your photography skills, we've put together a list of our favorite Instagrammable places surrounding the hotel.
What was once a large public salt water pool, is now a beautiful ruin. Established in 1896 the building which housed the Sutro Baths was destroyed in a fire in 1966. Today, these ruins provide a gorgeous backdrop to the perfect photo.
Located at 1004 Point Lobos Ave.
Believe it or not, San Francisco's City Hall building is the perfect Instagrammable place for photos. Built after the previous City Hall was destroyed in the Great Earthquake and Fire of 1906, City Hall was rebuilt with steel, granite, and marble interiors. Come marvel at this architecture.
Located at 1 Dr. Carlton B Goodlett Pl.
The Painted Ladies is an absolute necessity for San Francisco Instagram photos. From 710 to 720 Steiner Street, across from Alamo Square, the iconic Painted Ladies make up an inclining row of Queen Anne homes. Constructed during the Gold Rush, these colorful houses were meant to flaunt the city's wealth. They are now a San Francisco picture staple.
Located at Steiner St.
AT&T Park is a baseball park located in South Beach and is home to the San Francisco Giants baseball team. AT&T Park is perfect for sports fans and San Francisco lovers alike. You can even book a behind-the-scenes tour of the park!
Located at AT&T Park, 24 Willie Mays Plaza
Lombard Street
This East-West street is famous for its steep, one-block section of eight hairpin turns. This crazy-twisty street attracts over two million people a year. Drive it, walk it, or just point your camera and shoot. Lombard Street is an artistically crooked marvel.
Located in Lombard Street.
Fisherman's Wharf is known for bustling tourists, souvenir shops, great views of the Golden Gate and Alcatraz, with stalls selling sourdough bread bowls filled clam chowder at every turn. There is no shortage of photograph opportunity at this location.
Located at Fisherman's Wharf.
Gifted to Mayor Dianne Feinstein by her husband in 1984, the Bison occupying Bison Paddock in Golden Gate Park are descendants of the original heard. Photos of these magnificent American Bison are a great addition to your San Francisco collection.
Located The Bison Paddock, 1237 John F Kennedy Dr.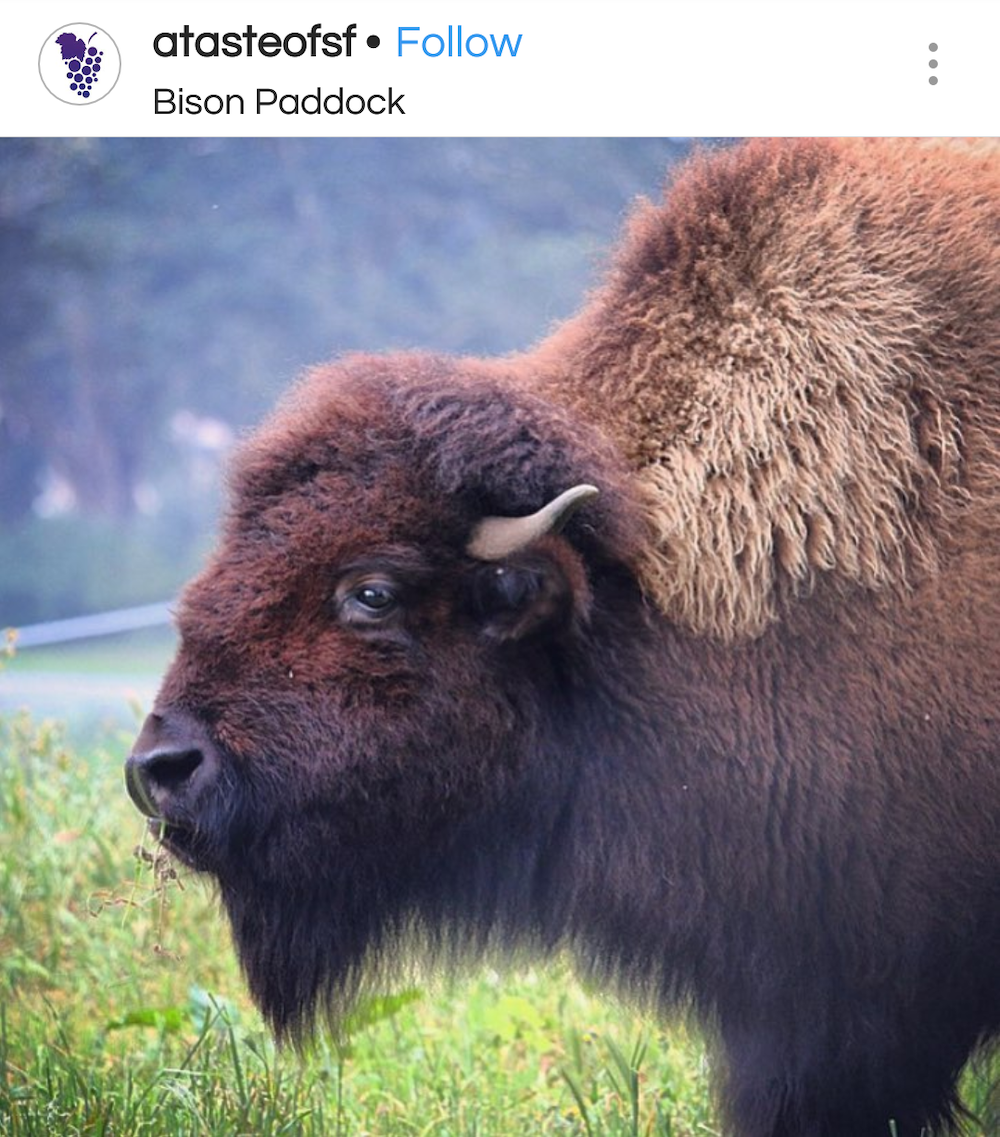 Golden Gate Bridge
Of course, our list would not be complete without the iconic and Most Instagrammable place in San Francisco, the Golden Gate Bridge. Take your photo up close, or from a far from any one of these three beaches: Marshall's Beach, Baker Beach or China Beach.
For more things to do in San Francisco check out our blog Stay and play in Union Square.