This city is known for embracing people, culture, and art from around the world and the way that we typically celebrate one another is through our annual parades. We've put together our top 10n favorite parades and their dates, in case you are lucky enough to be visiting during one of these exciting events.
Chinese New Year's Parade in Chinatown –February 23, 2019
Chinese New year, also known as the Spring Festival in Modern China, is an important Chinese Festival celebrated at the turn of the lunisolar Chinese calendar. This annual tradition is celebrated with a number of different events held around the San Francisco Bay area. The 2019 Year of the Pig Chinese New Year Parade will be held on Saturday, February 23, 2019.
St. Patrick's Day – March 17, 2019
Another highly attended parade and our second favorite is the Saint Patrick's Day celebration.  What makes this parade so special is that it is filled with kilted bagpipe players, Irish dancers, proud marchers, big floats, and attendees wearing customary green clothing.
The procession starts at 11:30 am and lasts for about two hours.
Cherry Blossom Festival in Japantown – April 13 -14, 2019 | April 20 -21, 2019 
Celebrate the blossoming of the cherry blossoms at one of three remaining Japantowns in the United States. Serving up cultural performances, martial arts, food, and fun!
Carnival – May 25 -26, 2019
Celebrate the 41st annual Carnival San Francisco with a two-day festival celebrating Latin American Culture. Enjoy traditional cuisine, dances, music, arts & crafts, and beautifully adorned floats. This two-day festival with be held May 25 and May 26 on Harrison Street between 16th and 24th  streets.
PRIDE Festival – June 29-30, 2019
For close to half a century, San Francisco has celebrated lesbian, gay, transgender and queer (LGBTQ) pride with parades. The Pride Parade is an SF tradition and the biggest parade in the Bay Area. The event starts on Saturday in downtown's Civic Center Plaza and features over 20 community-produced stages and venues from Homo Hip Hop, to Gay Pride, and something in between. Don't miss this event happening June 29-30, 2019.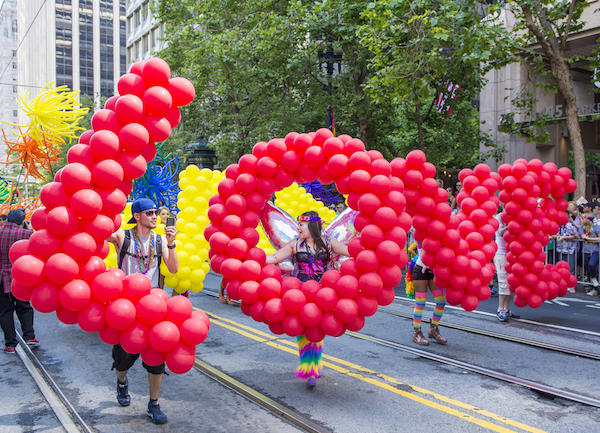 Outside Lands – August 9-11, 2019 
Fans wait year round for this exciting festival. With an awesome vibe, fantastic music, food drinks, and artwork — there's something for everyone! Located in Golden Gate Park, the festival continues to grow every year, so you never know what may develop.
Folsom Street Fair – TBD
This annual LGBTQ celebration is also referred to as, "The World's Biggest Leather Event" which should give you a clue as to the attire and nature of this event. You'll likely see outrageous people and extraordinary exhibitor booths along with loads of EDM music. That said, this parade is not for the faint at heart. This parade typically occurs sometime during the month of September.
Fleet Week – TBD
Take in the sights and sounds of Fleet Weeks annual airshow. Featuring military ships, live music, food and loads of fun! Enjoy this weekend-long event at the waterfront sometime in October.
Ghirardelli Square Tree Lighting Ceremony – November 23 – January 2
Visit one of the sweetest places in the city, Ghirardelli Square, for the Annual Tree Lighting which takes place in Union Square Park Between Sutter & Geary Streets, across from Macy's. You'll enjoy holiday performances,  a selection of beverages, and other holiday treats.
NYE Fireworks Over the Bay – December 31
Start the New Year out right with an amazing fireworks display at the waterfront, near the Bay Bridge. The show starts at 11:59 pm on New Year's Eve.